NEXT GENERATION RESOURCE MANAGEMENT
Companies utilizing a Digital Talent Base in place clearly have the inside track to success. Tempus Resource is unrivalled when it comes to powerful real time what-if simulations and a lean, user-friendly solution for resource management. At the operational level, Tempus Resource provides clear structures, high levels of user acceptance and easy handling. At the granular level, complex portfolio enquiries, simulations and forecasts are managed end-to-end. Reliable reports & forecasts can be generated at any time for strategic in-/ and outsourcing decisions.
Are you still using Excel for resource planning even if you have a PPM tool in place? Are you moving from projects to products or implementing an agile framework? There are no limits to the Gartner Cool Vendor 2016.
GARTNER LABLED TEMPUS
"Tempus Resource uses powerful, real-time simulations to model project data. Wether you have one hundred or one thousand resources, Tempus Resource is simple to implement and easy to use." – Gartner
Optimized time-to-market
Scenario comparison
Visualized opportunities
Fast reactions and robust decision making are vital within constant change.
Method and initiative independent
Workflow & Demand management
Manage resource dependencies
Moving from projects to products leads to new cross-functional dependencies.
Strategic HR-plan
Skills matrix management
In-/ outsourcing
Talent is the top driver for digital business growth. Shape your future workforce and reduce over utilization.
Dynamic team builder
Capacity heat maps
Manage bottle-necks
Don´t get stuck within agile execution and adjust to perpetual innovation.
Strategy cockpit
Drag-and-drop interface
Connect to any BI tool
The most powerful catalysts to innovate business models and monetize opportunities.
Mobile app
Plan vs. actuals
Approval workflow
Optimize forecasting and track time more easily and efficiently in an integrated solution.
TEC SPECS, INTEGRATION & SUPPORT
WHAT OTHER USERS SAY ABOUT TEMPUS RESOURCE.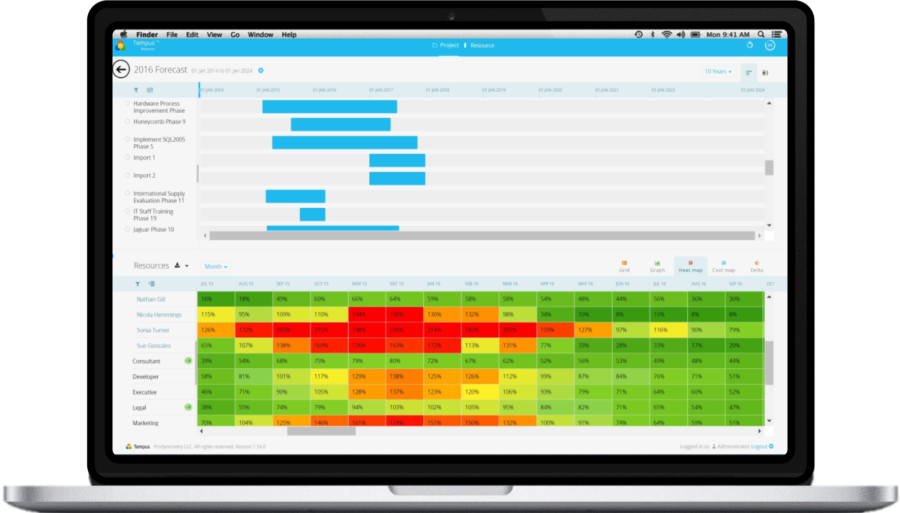 YOUR DIGITAL TALENT BASE DEFINES YOUR FUTURE ABILITY TO TRANSFORM AND INNOVATE.
RESOURCES = THE (NEW) CRITICAL PATH
Tempus Resource enables enterprises to manage the best critical path for long-term digital business value and success using their own resources, skills and capacities to the fullest possible extent. Tempus Resource is the foundation of almost any transformation, whether you are considering moving from project to product, scaling agile via frameworks or optimizing your resource utilization. Manage 50 or 50.000+ resources in one instance – double your throughput and halve your time.
36% OF CIO´S STATE TALENTS & SKILLS ARE THE TOP INHIBITOR FOR BUSINESS GROWTH
RESOURCE CAPACITY PLANNING = CAPITAL BUDGETING
Digitalization has pushed an exponentially increasing number of initiatives and projects into the wide end of the yearly PPM funnel. Budgets are limited, and resources even more so.
Portfolio management, with its origin in financial theory, once represented the most efficient allocation of budgets and resources, and could be matched to the individual corporate appetites for risk. But why is it that budgets are commonly known, whereas the vibrant potential of your resources´ skills and their capacities remains mainly in the unknown? Why is it that dealing with resources is so much harder than dealing with budgets? The answer is that resources have so much more dimensions than a simple currency value, that we must to take into account for sustainable business value.
A GLIMPSE INTO THE FUTURE: CORPORATIONS´ CORE _DIGITAL TALENT BASE